Date T Calc
Calculate date and difference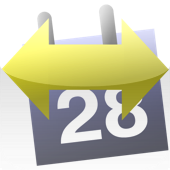 Date T Calc can calculate future and past dates adding days, hours and minutes to a specified date. It can also calculate date difference between two dates you select.
Date T Calc screenshots on iPhone - click image to zoom
EASY TO USE
Add a date/time interval to a specific date guessing the future/past date
Calculate the difference from 2 dates
Operate in date only mode (calculating only days) or also considering hours and minutes
Add from a selected date a specified amount of days in a click
Switch at any time from guess date to date difference in a click
Can add or subtract date going in the future or in the past
| | | | | |
| --- | --- | --- | --- | --- |
| | | | | |
| | 'Set date to now' button for fast calculation of backward and forward dates from the current date | | | Date display using your current local settings and language |
| | Calculates time difference, if requested, also using hours, minutes, seconds Calculates time interval, if requested, also using hours, minutes, seconds | | | We use only Apple native technology to create iOS apps because we love the Apple platform and and we love pure true iOS apps. |
FEATURES
Operate in Date Guess mode guessing a date after adding days/hours/minutes
Operates in Date Difference mode selecting 2 date and indicating the difference
Operates in Date Mode (only days) or Date Time Mode, working with days, hours and minutes
Can switch at any time from Date Only Mode to Date Time Mode
Can add or subtract date intervals
Can guess future and paste date
Has a preset amount off days, hours ,minutes to add in a touch
Now button to set the current date in a click
Calculation consider also Daylight Saving Time when necessary
Date and time is displayed in your local country setting using 12 or 24 hour format
Internal Help User Guide
Want to know more details about Date T Calc?
For general purpose questions about our product can be also useful to visit the
Tension Software Generic FAQ
section.
To know what's new from the previous releases visit the
Date T Calc Releases
page.
ALL THE POWER OF iOS
Requires iOS 10 or successive
Optimized for iOS 15
Works both for any iPhone and any iPAD
Optimized for the latest generation iOS devices
To know what's new from the previous releases
CLICK HERE
Date T Calc
Rel 2.4 (Aug. 22, 2022) - 300 KB
Requires: iOS 10

To know what's new from
the previous releases
CLICK HERE

If you want to know more about how buying works, visit the Buy section of our site