Triangle Utility
Engineering and technical triangle computation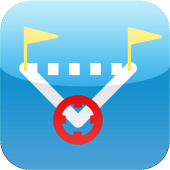 Triangle Utility is an application for iPhone and ipod Touch to solve engineering problems via a triangle computation.
It allows you to solve 3 different technical problems using a triangle calculation.
Using the bottom tab bar the user can switch at any moment from one problem to another maintaining the data used in of the 3 different problems.
Triangle Utility screenshots on iPhone - click image to zoom
The first Triangle Utility can solve, is calculating the distance of a point without accessing it. this as example as a remote point which is unpractical to measure distance to for various reason, as example because it is in an area you have no right to access or because it's simply too distant to use a direct measurement or is located on the other side of a river and so on.To measure the distance of the remote point, s3 in the figure, (it can be at hundreds of meters/feet)
The second problem you can solve is calculating the distance of two remote point s1 and s2 between them without having to physically access them. (You are in s3) You need to know the distance of each of this point from your position s3.
Third method is plain simple, you can access or measure the distance of 3 side of a triangle and want to know the angles of the triangle. It is enough to insert the measurements of the the 3 sides and the application will calculate the inner angles of the triangle.
Engineering oriented Shows a scaled view of the calculated triangle
Triangulation to evaluate Point distance from current location
Distance of two remote points
Calculation of triangles knowing only sides length

We use only Apple native technology to create iOS apps because we love the Apple platform and and we love pure true iOS apps.
To know what's new from the previous releases
CLICK HERE
Triangle Utility
Rel 1.1 (Sept. 16, 2014) - 459 KB
Requires: iOS 7.1

To know what's new from
the previous releases
CLICK HERE

If you want to know more about how buying works, visit the Buy section of our site